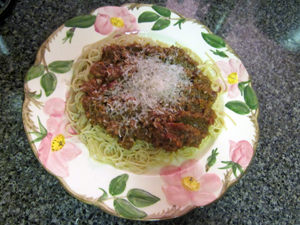 My son will eat pretty much anything put in front of him.  My husband, not so much.  He HATES vegetables.  He comes by it honestly; my mother-in-law pretty much cooks all vegetables until you can mash them, so it's no surprise that my husband assumes that vegetables are by nature bitter and mushy.  But he will honestly sit down to a plate and start picking out all but the smallest bits of most vegetables, so I was forced to get creative or watch my husband die of scurvy.
I began by zipping up vegetables in the food processor and "hiding" them in my normal spaghetti sauce.  Then a good friend appealed to me for some vegan recipe suggestions, as her vegan brother was visiting and her husband had declared anything involving tofu grounds for divorce.  I hit on the idea of using pecans, also ground in the food processor.  They have protein and good heart-healthy fat, and the combination gives them a mouth feel that is strikingly similar to ground meat.  If you usually put bacon in your Bolognese, try switching out half of the pecans for Smokehouse almonds.  Use this sauce over your favorite pasta or in lasagna.  (I recommend the whole-grain-added style pasta, like Barilla Plus.  I'd like to go with all whole wheat, but I just can't bring myself to do it– it looks too much like worms.)  This recipe is also a great way to use up leftover veggies; once the base is done, just throw whatever you have on hand in the food processor and add it to the pot.
In a large dutch oven or stock pot (or crock pot– this works well done "low and slow"), heat a few tablespoons of olive oil.  Dice or shred one large or two small sweet onions into the pot.  (I don't recommend you put the onions in the food processor, as it releases so much of the onion's liquid that the onions will stew rather than caramelize.  I use a small mandolin to get a fine shred.)  Depending on how sweet you like your sauce, you can take the onions anywhere from translucent to completely caramelized; I usually stop when I see a little bit of brown.
Into the food processor and then into the pot go:
1 pound carrots
2 c chopped celery
6 oz pecans
1-14.5 oz can diced tomatoes
You can increase any of these amounts if you need to stretch the recipe; add a second can of tomatoes, more celery, or those leftover veggies in the frig.  No need to wash your processor bowl between ingredients; they're all going the same place anyway.  If you don't have a whiner in the family, you can skip processing the tomatoes; I do it to humor my husband.  After the veggies are in, add:
1-8 oz can of tomato sauce
1-6 oz can of tomato paste
This horrifies genuine residents of Bologna, as the traditional Bolognese recipe has little or no tomato in it (the recipe predates the discovery of the new world and the tomatoes that grew there), but Americans expect it.  If you like short cuts, you can buy both sauce and paste (and diced tomatoes) that already have oregano and Italian spices added, so you can skip the spices below.  Also add:
about 1/2 jar of pepper/onion relish
I use either Roberts Reserve (Robert Rothschild) Roasted Red Pepper & Onion Dip or Dickinson's Sweet 'n' Hot Pepper and Onion Relish, both of which are vegan.  I know many gourmet companies have similar relishes; just be sure to check the ingredients if the vegan-ness matters to you.  You can absolutely leave this out, but if I do, my husband says, "Why isn't it as good this time?"  I have to bite my tongue to keep from saying, "It's because I left out some of the vegetables, bwa-ha-ha!"
At this point, you'll find that you need to add some liquid.  I use red wine, but vegetable stock will also work.  Add enough to get close to the texture you want (you'll want it looser for pasta and less loose for lasagna).  Don't make it too watery at this stage, because some liquid will cook out of the vegetables.  This is also where I add spices if they didn't come with the canned tomato products:
a few cloves of garlic, finely diced
2-3 t dried oregano (or 2-3 T fresh if you have it)
2-3 t dried basil (or 2-3 T fresh)
1-2 t dried sage (or 1 T fresh)
black pepper to taste (you may find the jalapeno in the relish is enough for you)
Cover the pot and cook in a 325° oven for at least an hour (or 4 hours in the crock pot on low).  Give it a taste and salt if needed (if you used part Smokehouse almonds in place of the pecans, you may find it doesn't need more salt).  It can sit in the oven for quite awhile if you need it to; lower the temperature to 300° if it's going to be more than two hours.  You don't want to cook all the texture out of it.
Pour over your cooked pasta and dress with freshly grated parmesan.