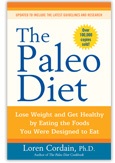 Where to begin?  Unlike Peter D'Adamo's Eat Right 4 Your Type, where I could quickly and easily dismiss the author as a crackpot, Loren Cordain's  The Paleo Diet (Wiley, revised edition December, 2010) contains enough facts and actual sense that I have to wonder where the obviously intelligent Cordain got off the logic train.
If you are familiar with the Paleo Diet and you think Cordain walks on water, stop reading now, because I'm about to say bad things about him. <pauses for the misguided to leave>  (The quotes in this paragraph are straight from Cordain's website, with the links to prove it.)  Okay, PhDoctor Cordain, I have two giant problems with your book, website, method, etc.  You begin by announcing, "The Paleo Diet, the world's healthiest diet…"  ANYBODY who makes that claim had better follow it with the endorsement of the AMA and the World Health Organization, which of course, he has not got.  Cordain's referenced dietary studies have more holes in them than the swiss cheese you can't have on the diet.  By far the scariest thing, though, is that by following Cordain's diet you can supposedly "slow progression of an autoimmune disease" and "reduce or eliminate your risk of diseases, including cancer, heart disease, diabetes, and the vast majority of all chronic degenerative diseases that affect humanity."  Really?  When someone tells you that you can cure cancer or lupus by eating better, RUN.  Anything that follows is sure to be heavily laced with snake oil (which, as an animal product, probably is on the diet).
Good Caveman, Bad Caveman
I spent most of my time reading this book, as well as its slightly more academic predecessor, Neanderthin by Ray Audette, feeling incredibly torn.  I would read one sentence and think, "That is factual and sensible."  I would read the next and fling the book across the room.  The conventional advice on how to lie convincingly is to "sandwich a lie between two truths," and I can't help feeling that these books are doing much the same thing.  Because I have a science background, I could go through point-by-point and illustrate where studies are flawed or syllogistic conclusions are backwards, but that takes a lot longer than it takes for an author trying to promote a belief as fact to simply bury their guesses in a stack of certified facts and hope the reader isn't experienced enough in critical review to spot them.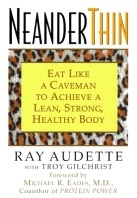 It all starts out with the basic premise.  "We are the product of millenia of evolution."  Absolutely true.  Unfortunately, that's followed by their theory, presented as fact and logical conclusion:  "And our bodies haven't changed much since then, so we should eat now what we ate then."  ARE YOU %$&# KIDDING ME???  Both phrases in that statement have fatal errors.  (WARNING:  there will be science.  I will try not to reach eye-glazing levels, but I've got a nail here, so you've got to give me my hammer.)  Number one, we have changed.  I will grant that 10,000 years is a blink in the total genetic development of humankind, but it is by no means insufficient time to make substantive internal and external changes in anatomy.  Paleoanthropologists and archaeogeneticists are still arm-wrestling about it, but if what's known as the "out of Africa" hypothesis is correct, then in 70,000 years of human history, we have gone from basically one population to every ethnic distinction on the planet, including height, weight, fat distribution, skeletal formation, and internal processes.  If 70,000 years is long enough to turn three similar creatures into, for example, a Maasai warrior, an Inuit, and, say, Björk, what could it not have done to our insides?  For comparison, the domestication of the dog roughly parallels the development of agriculture and domestic animal husbandry, so in the time since we were eating like hunter-gatherers, we have selectively bred a couple canine lines into everything from a mastiff to a chihuahua.  No big changes in 10,000 years?  I think not.
The second error?  Suggesting we should eat like cavemen presupposes two things, namely that cavemen were healthier than we are, which is patently untrue based on life expectancy, and that cavemen, given the opportunity to eat something other than what they were eating, would still choose their hunter-gatherer diet.  This is obviously untrue because we did develop agriculture and animal husbandry.  As soon as humans figured out a way to get calories that were always in the same place and didn't have to be chased, they went for it in droves.  The population that can survive, reproduce, and pass on their DNA in the most efficient manner wins.  The time you spend chasing down your dinner is not available for mating or protecting your offspring.  It was anthropologically worthwhile for some populations to develop the ability to digest excellent nutrient sources like dairy, so we did, and since more milk-drinkers lived to pass on their DNA, more of their descendents can handle dairy.  The only places we see widespread lactose intolerance are where land and climate issues make it difficult to keep cows, so there was never a survival advantage in tolerating dairy.
Should You?  Can You?
I have two friends who tried the Paleo Diet; one gave up before a week was out.  I spoke to the second at day 27 of her 30-day induction, and I asked how it was going.  "I've got a lot more energy!" she said cheerily.  "And…?," I asked.  "And I would kill you for a baked potato with butter and sour cream," she said.  And therein lies the difficulty.  It's just too extreme a lifestyle change for most people.  (If you think you can do it, try out the Four-Day Diet that I wrote about in You Can Stand Anything For Four Days, which is also free of dairy, gluten, and refined sugar and starch.)  And it has to be a lifestyle change, and the proponents know this.  Chemical and glycemic-dependent diets like Paleo and Atkins balance on a knife-edge, physiologically speaking.  One slip off the wagon, one good-sized injection of simple carbs, and the metabolic process collapses and you have to go back to start.  Maybe I overestimate the power of taste buds over will power, but I believe that any diet that tells you that you must give up most of your favorite foods for the rest of your life is doomed to failure.
We are omnivores.  We are designed to eat everything that doesn't eat us first.  It's what has kept us alive.  Unfortunately, now that food is so easy, it's what's killing us.  Cruel irony.  Will you lose weight on the Paleo Diet?  I'd bet money on it, if you can stick with it.  But you'll also lose weight on Atkins, South Beach, Jenny Craig, and a host of other plans, simply because your eating is so heavily regulated.  My husband lost 20 pounds on Atkins, but gained it all back (and more) when he went off.  He likes Häagen-Dazs too much to stick with a low-carb lifestyle.  So we've started a "lifestyle change" where he eats sensibly during the week, gets regular exercise, and get Chocolate Peanut Butter on weekends.  The weight comes off a lot more slowly, but it does come off, and he's happy.
We'd all do better without a lot of processed food.  Most of us eat too many simple carbs.  Some of us are better off without gluten.  Some of us are better off without dairy.  But whether your forebears hail from Yorkshire, Hokkaido, or the Arctic Circle has a lot more to do with what's healthy for your body than what cave your ancient ancestors called home.  Heck, one of the premier examples of early modern man is the Paleolithic "Cro-Magnon" man, found in the south of France.  Roughly 45,000 years after this guy lived, we're still trying to figure out why his descendents can eat an enormously high-fat diet (loaded with dairy, btw) without developing heart disease.  Slink off to your cave if you like, but before you go, passez-moi les croissants.