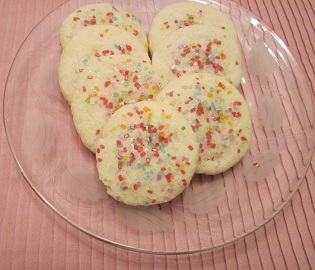 I spent some time researching recipes for a shortbread-style cookie made with cream cheese, and they all had so much sugar that I nearly went into a diabetic coma just reading the recipe.  For some reason, people seem to feel that the natural tangy-ness of cream cheese calls for an incredible addition of sugar (I find the same is true for a lot of cheesecake recipes).  Since I think of shortbread as a lower-sugar cookie, and I have a husband who constantly complains that things are too sweet, I decided to come up with my own recipe.
For a comparison, most recipes that call for this amount of flour, butter, and cream cheese call for 2 full cups of sugar.  Ugh.  I want to taste the cream cheese.  I also find that vanilla, and to a lesser degree almond extract, already tastes sweet to me, so I don't want to swamp the flavor with all that sugar.  I find that I can cut the amount of sugar called for in most desserts without any ill effect to the final product, and that means I can eat more cookies.
Ingredients
1 c. (2 sticks) butter
6 oz. cream cheese
1 1/3 c. sugar
2 c. all-purpose flour
2/3 c. ground almonds
1 t. vanilla
1/2 t. almond extract (this can be reduced or omitted if you don't care for it)
Instructions
Cream butter, cream cheese and sugar.
Blend in flour and flavorings.
Fold in nuts.
Chill dough 1/2 hour.
Portion dough into roughly 1″ balls.
Place balls on cookie sheet and flatten (the cookies will not spread, so they can be placed close together).
Decorate with sprinkles or colored sugar.
Bake at 375° for 12-13 minutes.
You can flatten the cookies with your fingertips or a fork, but that will leave impressions in the cookie (you might not mind that).  You can also use the bottom of a glass (cover it with plastic wrap so the dough doesn't stick).  I use a heavy stainless-steel meat tenderizer, which I don't think I have ever used to tenderize meat, but it's great for making flat cookies.
You can substitute any kind of nut, but anything besides almonds, or maybe macadamia nuts, will be visible in the cookie.  Hmm, I bet using macadamia nuts and changing the almond extract for coconut extract would be a winner.  If you try it before I do, let me know how it turns out.  Enjoy!