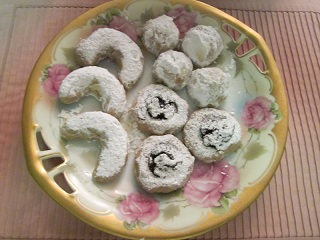 As you can tell from the title line, these cookies, with very few variations, are a favorite in almost every culture.  It seems like no matter what I call them, someone has to "correct" me, and usually tell me that their grandmother had the One True Recipe and I don't make them properly.  Well, tough.  This is MY grandmother's recipe, which you are free not to eat.  And don't think you won't get caught sneaking one, because unless you have the reflexes of a kung fu master, you're going to be wearing enough powdered sugar to give you away.
The authentic basic recipe is fat (usually butter or lard, but sometimes oil), flour, powdered sugar, ground nuts (whatever is indigenous to your ancestral lands– almonds, pecans, pistachios, etc.), and flavorings (most often vanilla, cinnamon, citrus, cardamom or anise).  The cookies are shaped (into balls, crescents, or "thumbprint" cups filled with more nuts or jam) and baked, then dredged in more powdered sugar.  Just in case you didn't inherit a recipe from your grandmother, here's one from mine.
Ingredients
1 pound (4 sticks) butter
1/2 c. powdered sugar
4 c. all-purpose flour
2 T water
2 t vanilla
2 c. finely chopped nuts (I use pecans)
more powdered sugar for dredging
Instructions
Cream butter and 1/2 c. sugar together.
Slowly incorporate flour until a stiff dough forms.
Fold in water, vanilla, and nuts.
Shape dough as desired and fill if desired (filled cookies shown above with about 1 t prepared mincemeat).
Place on baking sheets. You don't need to leave much space between cookies, because they won't spread as they bake. You don't need to grease the baking sheet, either, because there is so much butter in these cookies.
Bake at 325° for 15 minutes; cookies should be dry-looking but not brown (except on the bottom).
Cool on sheets 2-3 minutes, then roll in powdered sugar or dredge from a sieve. The cookies should still be warm, or the sugar won't stick. Handle them carefully, as they will shatter if you squeeze them.
Cool completely (I drain and cool on brown paper grocery bags) and place in tight-sealing tins with waxed paper between layers.
This recipe makes about 5 dozen cookies depending on size and shape.  My grandmother liked crescents; I prefer the balls (if I make them bite-sized I have a fighting chance of getting the whole thing in my mouth without adorning myself in powdered sugar) and the mincemeat filled.
In surfing around the net, I find that my Grammy's recipe has about half the amount of sugar in the dough as many recipes I see posted.  That's probably why these are my husband's favorite; he claims he doesn't like really sweet things (unless it's these cookies, or lemon cheesecake, or Häagen-Dazs, or…).  Considering that you're going to roll or dredge them in powdered sugar after they're baked, I've never missed the sugar in the dough.  I figure every gram of sugar you can leave out is a plus, considering how much you'll be getting on the outside of the cookie.
 Try some of the variations; you may find one you really like. Claim it came from your grandmother– I won't tell.