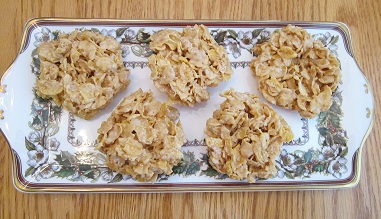 These sweet peanut butter treats are a favorite from my school days.  I'm pretty sure the number of kids eating in the cafeteria doubled on days when they had Peanut Butter Chews for dessert.  They're made much the same way Rice Krispies Treats are made, so they have the same cohesive qualities from the marshmallows.  The cafeteria served three cookies on a small plate, and we girls ate them delicately.  The boys, who could not be bothered to sit a moment longer than necessary and who would rather die than do anything delicately, would mush all three chews together to form something roughly softball size and exit the cafeteria munching happily on it.
Ingredients
1 10-oz. bag marshmallows
3-4 T butter
1/3 c. peanut butter
8 c. Frosted Flakes
Instructions
Place marshmallows, butter, and peanut butter in a large microwave bowl.
Microwave on high for 2 minutes or until marshmallows are large, bloated, and scary-looking.
Stir until blended.
Fold in Frosted Flakes until all flakes are coated with candy.
Drop by 1/4 c. scoops onto wax paper OR press into a buttered 9″ x 13″ pan.
Cool until set.
Cut into bars (if you used the pan) and store in a sealed tin.
You can use the "low sugar" version of Frosted Flakes, but I don't recommend using regular corn flakes.  The sugar coating totally changes the texture, and the regular corn flakes just don't stand up well to the marshmallow candy.  The result will still taste good, but it won't be pretty.
Yes, if you must, you can use margarine instead of butter, but why would you?  It's a cookie.  As cookies go, these are fairly low in fat, and between the cereal and the peanut butter, there is some actual food value.  I would be lying if I said that I have not had Peanut Butter Chews for breakfast on more than one occasion.  Enjoy!