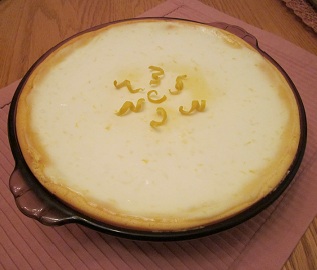 Okay, so WHY am I posting a recipe for an incredibly high-fat, high-calorie dessert?  Because I can.  And because one of the 2Rich2Thin philosophies is that you can have anything as long as you plan for it and exercise a little moderation.  Make this amazing dessert and share it with a group of friends.  That way you get to have it, and the leftovers aren't sitting in the frig calling your name.
My husband says he could kill himself eating this sinful dessert.
Summary: Unbelievably Delicious Dessert
Ingredients
1 1/2 c. vanilla wafer crumbs
1/2 c. ground almonds
6T melted butter
8 oz regular cream cheese
8 oz mascarpone cheese
3/4 c. sugar
2 eggs
6T lemon juice
1T lemon zest
1 c. sour cream
1T sugar
1T lemon zest
Instructions
Crust:
Blend 1 1/2 c. vanilla wafer crumbs with 1/2 c. ground almonds in your food processor. (The almonds add some protein and some heart-healthy fat, as well as a wonderful nutty crunch.)
Pour into a 9″ pie plate or springform pan.
Add 6T melted butter and mix well.
Press crumb mixture into bottom of springform or bottom and sides of pie pan.
Fillling:
Mix 8 oz regular cream cheese, 8 oz mascarpone cheese and 3/4 c. sugar together.
Beat in 2 eggs until creamy.
Gently stir in 6T lemon juice and 1T lemon zest.
Pour over crust and bake at 325° for 45 minutes
Remove from oven and allow to cool while you mix up the topping; the filling should fall a little bit to make room.
Topping:
Beat 1 c. sour cream, 1T sugar and 1T lemon zest
pour over baked cheesecake
Bake an additional 10 minutes at 325°
Remove from oven and chill – This is best if it has 4-5 hours to chill, so make it in the morning to serve as an after-dinner dessert.
Preparation time:
Cooking time:
Number of servings (yield): 8
My rating 5 stars:  ????? 1 review(s)
Copyright © 2Rich2Thin.com.
Recipe by Abby Lange.