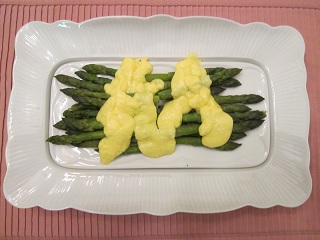 Yes, Hollandaise is incredibly high in fat.  It's also delicious, and unlike a lot of sauces and gravies, it has no carbs.  Zero.  Zip.  Nada.  Okay, there is a trace of carb in the egg yolk, so if you consume the entire batch, you might get around a gram of carbohydrate.  But if you're trying the low carb lifestyle, now is definitely the time to learn to make this decadent traditional French sauce.
I love to cook, but I hate to wash dishes, so the thought of a double boiler makes me cringe.  But it turns out that almost anything that requires a double boiler can be done in a microwave oven– the key is short bursts of time.  The only cooking equipment you need for this recipe is a measuring cup and a wire whisk.  Oh, and a strainer for the lemon juice.  The bottled stuff is fine for your water bottle or iced tea, but for this sauce, you're going to want lemon juice on the hoof, so to speak.  The flavor difference is huge.
1/4 c (1/2 stick) butter
1 T fresh-squeezed lemon juice
2 T  water
2 egg yolks
1/2 t  salt  (if you use unsalted butter you may need more, but you an always add that later)
Melt the butter in your microwave.  Whisk in the lemon juice and water.  Test the temperature (sticking your finger in it is fine– I'll never tell) and make sure it is cool enough not to cook the egg yolks on contact.  Whisk in the egg yolks and salt.  Microwave for 20-30 seconds.  Remove (yes, it's scary-looking) and whisk.  Return to the microwave and zap for another 20-30 seconds.  Depending on the wattage of your microwave, you made need a third round of zap-and-whisk, but you should end up with a smooth, lovely, pale yellow sauce that is basically a convenient vehicle for conveying butter and lemon to your mouth. 
Use it on any protein or vegetable; my husband would eat an old shoe if I put enough Hollandaise on it.  This makes a small batch, but it does not keep— the egg yolk works well as a thickener, but not as a long-term emulsifier, so the butter and liquid will start to disagree with one another as the sauce cools.  You can warm it again for a few seconds and re-whisk, but it will eventually overcook.
Use your leftover egg whites in omelettes or souffles (another high-fat low-carb treat), or angel-food cake if you are allowing yourself enough carbs.