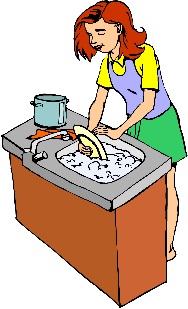 Okay, I'm talking to the Moms out there, as well as those of you who eat mostly "meals for one".  Take this one-question quiz:  When you have eaten enough to feel satisfied, and you notice that there is less than a cup or so left of whatever you ate, do you, A, carefully put it away in your refrigerator, B, throw it in the garbage disposal, or C, eat it?
I get it.  My mother was a child of the Depression, and she never threw anything away.  We had drawers full of paper clips, because she picked them up off the ground ("Look at that, somebody dropped a perfectly good paper clip and just left it!").  I'm pretty sure she had grocery-store bags dating from the Carter administration.  I was raised on the adage, "As soon as you throw it away, you'll need it," as well as all those guilt-laden stories about starving children in impoverished countries.  I was trained not to throw "good food" away (or much of anything else).  Of course, I was also trained to clean out the refrigerator when those valuable leftovers became frightening science experiments, but our virtue was safe, because we didn't throw the food away until it was bad.
On the other hand, it's a lot of trouble to get out foil or a plastic container and put away a little bit of something, but you can hear your mother or grandmother delivering a lecture on waste inside your head, so rather than appear wasteful or admit you're too tired or lazy to put away leftovers, you just eat them.  You take in calories from food you didn't need, and didn't really want.  Congratulations, you have successfully turned yourself into a garbage disposal.
Waste Not, Want Not, Whoa!
You know they belong in the garbage disposal.  You know that even if you put them carefully away, unless you make a plan for how you're going to use them up, they're going to turn colors and end up in the garbage disposal, hopefully before they achieve consciousness.  But somehow it seems evil to put them in the garbage disposal while they are edible.  Besides, we were trained to "clean our plates" and we got in trouble if we slipped some of it under a napkin, even if it was peas.  (My husband used to put his peas in his pockets, which was slightly more virtuous than his brother, who threw his behind the refrigerator.  Needless to say, I rarely serve peas.)
Let's step out of our own kitchens for a minute and think about eating at a restaurant.  Answer the same question, do you clean your plate out of childhood habit, do you ask for a box, or do you let them take some of the food away to their garbage disposal?  One of the reasons Americans are getting fatter so quickly is that restaurant portions have grown to ridiculous amounts.  I have taken to ordering in most places with a mind to taking home fully half of what I'm served, unless they are flexible enough to serve me an appetizer portion as my entree.  (If I play my cards right at my favorite steak house, I can eat dinner and take home tomorrow's breakfast and lunch, and sometimes dinner.)  Most people will ask for a box, which will likely suffer the same fate as most leftovers in your frig, and that's assuming they make it home.  Ask the manager at your favorite restaurant how many boxes of leftovers they throw away because the patron left it on the table.  (It's a lot.)  Most people who don't ask for a box will leave some food on their plate.  Often, it's the automatic sides, like the rice and beans at a Mexican restaurant.  You didn't order it specifically, and you didn't really want it, so it's somehow okay to let it get thrown away.  Maybe it's like peas.
One of the cardinal rules of weight control is to stop eating when you feel satisfied.  I actually enjoy finding creative ways to use up leftovers (check the Recipe tab for some of them!), but if you don't, then skip the fuzzy mystery stage and just give yourself permission to throw the leftovers away.  And above all, do not treat yourself like a garbage disposal.  You are worth so much more than 49 cents worth of pasta, and sticking to your eating plan is a virtue in itself.  Yes, food is going to waste.  But at least it's not going to waist.