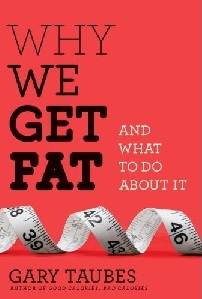 Gary Taubes is a smart guy.  A really smart guy.  I mean, I don't know his GPA, but Applied Physics at Harvard, Aerospace Engineering at Stanford, and Journalism at Columbia is not an academic course for the weak-minded.  As a scientist, then a science writer, Taubes is very experienced at critical reading of science literature and scientific studies.  (He's done the reading, so you don't have to.)  In Why We Get Fat and What to Do About It (Knopf, December 2010), Taubes lays out the arguments for the link between obesity and starch, and (and here's the important part) he backs it up with a wheelbarrow load of science.  The depressing part is that the science isn't new; a lot of it has been around for years, and some of it has been around for almost 200 years.
Joining the Shouting
Taubes cut his teeth as a science journalist by finding scientists who set themselves up as newly-clothed emperors and then casting himself in the role of the only kid honest enough to tell the emperor that he's buck naked.  Taubes started on the "conventional diet wisdom" brigade in a 2001 New York Times Magazine article entitled, "What If It's All a Big, Fat Lie?"  He followed that with his first nutrition science book, Good Calories, Bad Calories (Knopf, September 2007).  In GCBC he detailed the sad history of the last 200 years, in which smart people who pointed out that all available evidence suggests that starch and sugar, not fats, make us fat were loudly, systematically, and institutionally shouted down by medical, scientific and governmental bodies.  These august bodies were, for some reason, absurdly resistant to the idea that fat people weren't simply lazy and gluttonous.  Taubes introduces many chapters with quotes from French physiologist Claude Bernard, whose 1865 work Introduction to the Study of Experimental Medicine is considered one of the foundations of the current "blind" study standard of experimentation.  The quotes, and indeed much of the book, boil down to the idea that people are going to believe what they've been told, and that it's psychologically less painful for them to ignore and belittle new evidence than to admit they've been believing something that wasn't true.  I mean, how long did people resist the notions that the world wasn't flat and that the sun didn't revolve around us?
My favorite section in GCBC is called "The Eisenhower Paradox."  In 1955, President Eisenhower suffered a heart attack, and his became the most publicized heart disease in history.  He was placed on a low-fat (high-carb) diet, and years later his physician wrote joyfully of the success of the diet, despite the fact that Eisenhower was both fatter and sicker after having been on it.  The argument that he would have been fatter and sicker still had he stayed on his old diet rings pretty hollow when you consider that Eisenhower had maintained roughly the same weight for years that he had as an active military man until his diet was radically altered away from fat and towards more carbs.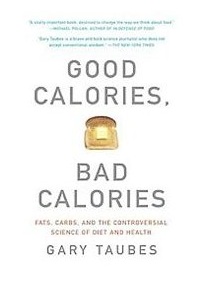 GCBC has a lot of history and a lot of science, and if you like a challenging read, you'll find it fascinating.  But it is a tough read.  I also found it incredibly negative in tone.  Taubes' books have typically been, if not hatchet jobs, at least as much exposé as education, and starting with "Big, Fat Lie" and continuing with GCBC, his first goal seems to have been to tell you that everything you know is wrong, and that you've been led to believe these wrong things at the feet of experts who were at best, misguided, and at worst, crooked.  Anyone who wants to be an agent of change will tell you that one of the first things you have to do is make people mad, and if you can get through it, GCBC will make you mad.  (Hint: Never let a politician interpret science for you.)
Why Are We Fat?
With Why We Get Fat and What to Do About It Taubes has done a few wise (and commercially savvy) things with his message.  There is still plenty of science, but it's diced up into nice, digestible bits.  And I felt the tone was a lot more positive, not so much "you have been lied to!" as "here's the way it is, and here's how to fix it."   WWGF opens with observations made by Dr. Hilde Bruch, a pioneer in childhood obesity, that when she came to America in 1934 she couldn't recall ever having seen so many fat children, many of whom were Depression-era poor and as malnourished as they were fat.  In a time before there was a McBurger on every corner, it's a challenge to the notion that fast food and Xbox are solely responsible for obesity in our kids.
Above all, Taubes wants you to ditch the idea of "calories in, calories out" as the explanation for weight, and that shakes my world view painfully.  I try to keep my mind open, and Taubes has given me a lot to think about.  But there are a few things I'd like Taubes to think about as well.  A lot of the studies he cites are observations on single-generation changes in eating, often involving indigenous people or subsistance cultures.  If you take a Native American, tell him to stop hunting and growing the crops he's lived on for generations, and stick him on a reservation with unlimited supplies of white flour, white sugar, and infamous government cheese, he's going to be obese and diabetic.  Duh.  So would most people, even from cultures that have at least ten generations of metabolism of simple grains and dairy.  It's no surprise that when you give someone food that their entire gene pool has never encountered, bad things happen, especially when that strange food is seductive to the taste.  There's a bedroom community near me that is also home to a landlocked population of formerly wild deer.  Now they hang out on people's lawns and watch the cars go by.  The neighborhood has been pleading with folks not to feed the deer, because most of the feeders buy "deer corn" that is in effect feeding them a diet of nothing but Snickers bars.  It's sweet-tasting, so they'll eat it preferentially over normal grazing.  The deer breed like mad, but are sickly and weak without proper (for a deer) nutrition.
Hanging Off the Bumper of the Bandwagon
I will agree that most people eat too much sugar and starch.  And many of them don't tolerate it well.  But some can handle it better than others.  You can be plump with normal blood chemistry and skinny with tri-glycerides through the roof.  It scares me a little when someone on a strict diet delightedly announces that they got effortlessly down to a size 4.  It makes me want to see her family photographs and her blood panel; it's only good news to be a size 4 if you are the healthy size 4 you were meant to be.  I'd have to have ribs removed, and I'd look like a cadaver.  And if it meant giving up sugar and starch forever, I'd be an ill-humored cadaver.
The problem with completely denying the "calories in, calories out" school of thought is that in the extreme, it's correct.  If you eat nothing, you'll starve to death.  If you eat to excess, even if you don't take in a scrap of carb to stimulate an insulin response, some other body system will break down and kill you.  (Too much protein will overload your liver and your kidneys.)  I completely accept Taubes' discussion on insulin resistance, and I will wholeheartedly agree that for some morbidly obese people, they have no choice but to trick their metabolisms back on the rails again.  They are broken, endocrinologically speaking, and eating less and exercising more is not going to help them.  On the other hand, if you are gaining and losing the same 10 pounds over and over, and are in good health otherwise, thinking about calories in and out is probably your best bet.  You don't need a complete upheaval of your eating habits.  Skip the baked potato, but if you do, feel free to have the cheesecake.
Health and wellness, heck, our very existence on the planet is a balancing act.  Starch is not evil.  Cereal grains are keeping a pretty large percentage of the human population alive.  If they're killing you, cut down.  A lot.  Think about what and how much you put into your mouth.  Your genetic heritage may mean that you should be counting carbs rather than calories; it may also mean that you should be a healthy size 12.  But if you have always struggled with your weight, give Taubes' WWGF a look.  It might have some 200-year-old wisdom to teach you.