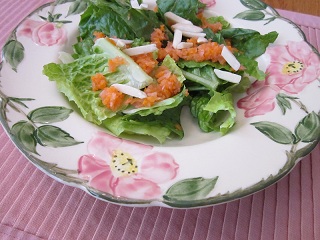 Thanks to my husband's Air Force career, we have lived all over.  I was sadder to leave some places than others, but in most spots there was a treasure I wished I could pack up and take with me.  I guess it says something about my priorities that those treasures were usually restaurants.
In Columbia, South Carolina, we enjoyed many a meal at a Japanese restaurant called Micato.  (Since my husband refuses to eat sushi, it was a fine thing that Micato makes delicious curry dishes as well.)  They had the most amazing and flavorful dressing on their salads, and after a little serious taste-testing (that's my story, and I'm stickin' to it) and some experimentation, I figured out how simple and how incredibly low-calorie it was.  It also makes a yummy topping on fish.
In your food processor, put 1 ounce of gari (asian pickled ginger root, the thin-sliced pink stuff) and 1-2 ounces of carrots.  Process, and while the machine is running, drizzle in 1 tablespoon of light-style (no added sugar) rice vinegar until the dressing comes together.  (Micato's dressing is actually just gari and carrot, but I find the addition of the vinegar spreads the flavor through a tossed salad better.)
The whole batch has about 25 calories (6 grams of carbs, no fat), and it's enough to dress three to four small salads.  The salad shown here has about a tablespoon of the dressing and a tablespoon of slivered almonds on romaine lettuce; the whole salad is about 25 calories and less than 5 grams of carbs, and it's delicious (and pretty).
If you want to add even more zing, process in a few slivers of jalapeño or serrano chilies, for another jolt of flavor in return for barely a trace of carbs and calories.  If you want the dressing sweeter and you can handle a few more carbs and calories, add a tablespoon of mirin (japanese rice wine).  It's a delicious addition, but a tablespoon will cost you 35 calories and 7 grams of carbs, still not bad split between three or four salads.  Enjoy!