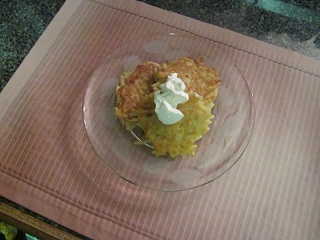 So, now you're frowning at leftovers, wondering how to use them up without endless repeats of the basic Thanksgiving menu.  You've also got odd amounts of certain items, depending on their popularity at the main feast.  I always seem to end up with slightly less than enough mashed potatoes for the last presentation, unless I find a way to extend them.  Here's my favorite.
I can't remember when I made my first latke, or potato pancake; growing up in a Catholic household, it wasn't a cultural food for us.  But at some point I ate one and decided that it was pure genius (and pure deliciousness), and I determined to add it to my cooking repertoire.  Peeling and grating potatoes, though, is frankly a drag.  So one day I decided to make latkes out of leftover mashed potatoes, and it worked like a charm.  It has the secondary advantage of portion control– instead of plopping an indeterminate amount of loose mashed potatoes on your plate, you now have individual pancake portions to keep you honest.  And a little sour cream on top is probably still fewer calories than the lagoon of butter or gravy you normally create in a mound of mashed potatoes.
The basic latke recipe is typically:
1 cup grated potatoes
1 T grated or diced onion
1 beaten egg
1 T all-purpose flour
1/2 t.  salt
You stir this together into a loose "batter" and plop by generous spoonsful into a hot frying pan (prepared with your favorite fat, or nonstick spray if you must).  It takes quite awhile to cook, because the potatoes are raw (if you've ever cooked hash browns, you'll have an idea).  I sometimes make this classic style, thanks to the nice folks at Simply Potatoes who do the peeling and shredding for me.
Working from mashed potatoes is a much quicker job, because your potatoes are already cooked.  And yes, if you cheated and bought your mashed potatoes from Simply Potatoes or Bob Evans, their product will work just fine for this recipe.  You probably already added salt to your mashed potatoes, so you don't need that.  Whether you want onions is a personal choice.  Start with one cup of your mashed potatoes, and add one beaten egg and 1 T flour.  If you added a lot of milk, cream, or butter when you mashed the potatoes, this may result in a gooey mess, and you'll have to add more flour to compensate for the added liquid.  Don't add more than 3 T in total, and if you need to add that much flour, I recommend adding a 1/2 t. of baking powder to lighten up the batter.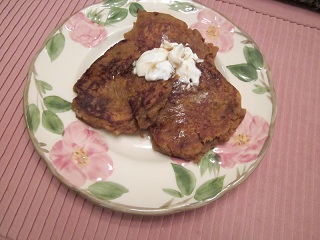 Now cook it like a regular pancake, just 1-2 minutes per side until golden brown.  Serve hot with a dollop of sour cream.  This method will also work for mashed sweet potatoes; in additional to the sour cream, drizzle a little maple syrup over the top when serving.  You may find you like these so much that they'll go on the regular menu instead of the leftover menu!