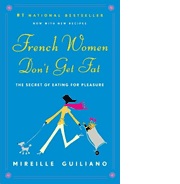 I've spent some time in France and trust me, French women get fat just like the rest of us.  Sophisticated urban French women don't as a rule, but then neither do sophisticated urban American women.  But I have to agree with Mireille Guiliano that French women eat more and have more fun staying thin than their American counterparts.
French Women Don't Get Fat (paperback edition published by Vintage, December, 2007) is a blend of Guiliano's life story and her lifestyle advice.   As a French exchange student, she came to America a normal weight and went home fat (her father met her at the boat and told her she looked like a sack of potatoes), thus beginning her search for a way to have both croissants and designer clothes.  Now in her 60s and dividing her time between America and France, Guiliano offers anecdotes and recipes along with her basic philosophy– that Americans eat too much, sit too much, worry too much, and consequently, weigh too much. 
…food is not your enemy (in reasonable portions), eating fabulous food can actually help you lose weight, and starving and depriving yourself will only end in tears and muumuus.
C'est Vrai?
Much of the book is right in line with the 2Rich2Thin philosophy, namely that food is not your enemy (in reasonable portions), that eating fabulous food can actually help you lose weight, and that starving and depriving yourself will only end in tears and muumuus.  There are also some wonderful recipes for yummy French food.  On the other hand, I found the writing style a little pretentious (and trust me, if I find it pretentious, a normal person is in serious danger of rolling their eyes right out of their sockets).  When "France" or "French" appears so often in the book, most people are capable of remembering that the author is French without French phrases creeping cutely into the text, n'est-ce pas?  (By the way, I actually read French, and even I found the "franglais" annoying.)
There's a line in The Devil Wears Prada where a character details her diet plan as, "I eat nothing at all, and then just before I pass out, I eat a piece of cheese."  Guiliano would be horrified by that, but hers would be something like, "I take two hours to eat five golf-ball-sized portions of incredibly good food and drink a glass of champagne and two glasses of mineral water, and then I walk for an hour."  (There is reportedly more to compare between Mireille Guiliano and The Devil Wears Prada, but that's not my beat– try Gawker.)  My biggest criticism of the plan is that it bears little resemblance to the lives and schedules of normal American women.  One of her major peeves, and she's not wrong, is eating on the run; unfortunately, many women have two choices– eat on the run, or don't eat.  And of course there's the difficulty of totally revamping meals and meal times when you have to plan around a family of overscheduled picky eaters.  Most of us would be thinner tomorrow if we had only ourselves to consider.
…But a Little More Self-Love Wouldn't Hurt
Something she doesn't mention, and perhaps she should, is that French women have a much earthier connection to their bodies.  Clothing-optional is not limited to perfect figures, nor is sexy lingerie.  If you spend an entire afternoon and hundreds of dollars buying a custom bra and matching panties, you're well motivated to avoid that extra slice of pizza.  And you might also find that in gorgeous lingerie you look way sexier than frowning over the Sports Illustrated swimsuit edition would lead you to expect.
I'd say the book is definitely worth checking out (of your library).  You'll like a lot of what she has to say, and you may find some insights that you can work into your own plan.  As far as buying goes, I recommend a different purchase of Madame Guiliano's wares.  After her book was published, Guiliano retired as CEO of Champagne Veuve Clicquot, my hands-down favorite brand of champagne (okay, I prefer Dom Perignon, but I can't afford it very often).  A bottle will cost you more than the book, and it won't last nearly as long, but you'll enjoy every drop of it.  And there's nothing more French than that.