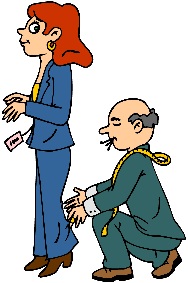 My sister used to love shopping at a store near her called "Comfy Clothes."  I guess it was a better marketing strategy than calling the store "Muumuus 'R Us."  Their entire inventory was loose-fitting, stretchy, elastic-waistbanded creations in which you could lounge, relax, and most importantly, hide at least 25 extra pounds before anyone, yourself included, noticed.
I yield to no one in my appreciation of comfortable lingerie and sweats.  In our house, we have a saying that if it's dinnertime and Mom is still in her jammies, it has been a good day.  But I guess I'm old-fashioned, because to me, sweats are not something you wear out into the world, even to the grocery store, unless it's an emergency (like you're in the middle of putting together a fabulous recipe and realize you're missing an ingredient).  I expect the clothes I wear out in public to actually fit me.
Make Your Clothes Your Size
If, like me, you don't have an off-the-rack body, consider finding yourself a good tailor.  Your dry cleaners should be able to recommend one; if not, go to your nearest men's store and ask the tailor they have on staff.  I actually know how to sew rather well, but I don't enjoy it.  So rather than say bad words and throw things, I found a nice lady who charged ridiculously low prices for basic alterations.  I'm tall enough to rarely need a hem altered (and that I do for myself), but I have a small waist in expected proportion to my large caboose, so it's incredibly rare for something to fit me nicely in both the waist and the hips.  If I buy a large enough size for my hips, the waist swims on me, and if I don't tailor it to fit, I can easily pack on several pounds of belly fat before it becomes uncomfortable.  If you're on a long-term weight loss plan, your tailor can be a huge help in limiting how much you have to spend on new clothes as the weight comes off.  You'll be able to invest in nice things knowing that your tailor can keep making them smaller as you get smaller.
If the garment is washable, be sure to wash it a few times and dry it well to make sure that any shrinking it's going to do is done.   Then, make it fit like it was made for you.  Be sure you take into account what type of fabric it's made from– anyone who has ever owned a pair of jeans can tell you that cotton denim twill is evil.  You'll put on a freshly-washed pair of jeans and think you've gained ten pounds, but after you've worn them for an hour or so, they will fit fine.  Have a garment tailored straight out of the dryer; if you have it taken in after the fibers have had stretched, you'll never get it back on when it contracts in the heat.
Replace Your Scale With Your Waistband
Once your clothes fit, even if you never go near a scale, you'll know quickly if you've been bad in the calorie department, and you can address it before it becomes a long-term problem.  We like to joke about having "fat clothes" and "skinny clothes," but the fact is that your size and shape shouldn't change all that much, week in and week out.  If you are truly getting so bloated at the end of the month that you need larger-sized clothing, it's time to see your doctor, because that's not normal (though it is by no means uncommon).  Hormones are tricky at the best of times, and stress, seasonal changes, birth control, and many other factors can throw your endocrine system out of whack.  What's affecting your outsides is also affecting your insides, and bigger clothes won't help there.
So stop avoiding darts, pin tucks, and waistbands, and embrace what they can do to keep you on the straight and narrow, diet-wise.  A good relationship with a tailor can be as important to your weight loss as your relationship with the trainer at your gym.  And if you keep up your progress on your weight-loss journey, you'll experience the joy of taking something into your tailor and telling them that it needs to be taken in.  Again.