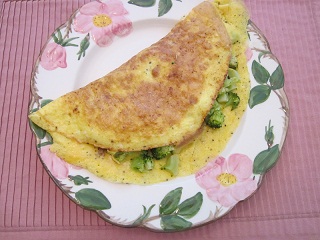 Another favorite alternate use for Thanksgiving leftovers, the Stuffing Omelette is a great brunch dish for the guests who stayed overnight after Turkey Day, or a fortifying lunch  for hardy shoppers returned from their Black Friday early-morning adventures.  (Personally, I think Black Friday is nuts.  I will be inspecting the insides of my eyelids at 6:00 am the day after Thanksgiving.  If you're going to brave the crowds, be sure to read Spend More to Spend Less before you go, and don't give in to the bargain hysteria!)
Whether this recipe works for you will depend on what your traditional stuffing recipe looks like.  (And if you're a cheater, I'm not sure I'd try this with Stove Top unless you do a lot of doctoring to it.)  My traditional family stuffing recipe is mostly white bread and a few stray gizzards, and my husband begged from the earliest days of our marriage not to have that dish at our table.  It wasn't much of a sacrifice to agree with him, as I am not a fan of organ meats.  Four years living in England could not convince me that it is a good idea to eat parts whose sole intended function is to cleanse waste from the body.  You know that bag of suspicious parts that comes packed inside your turkey?  In our house we call that garbage.  I mean, come on, not even the cat wants to eat it.
My "new traditional" stuffing has bread crumbs and homemade corn bread, but it's also got sausage (I love the Jimmy Dean Sage Sausage), diced onions and celery, shredded carrot, and diced apple, so there's plenty of stuff that makes sense inside an omelette.  Sadly, most of the green cooks away, so if I happen to have some leftover asparagus or broccoli, I'll toss that into the omelette as well, for color.
A plate-sized omelette as pictured above is made with three eggs.  Add a little salt and any other spices you like while you're beating the eggs, along with a tablespoon or so of water.  Using milk or cream at this stage actually weighs down the egg– you'll get much better volume on your omelettes with water.  Cook in a hot pan (the calories you saved by not adding milk or cream to the eggs can be allocated to the butter in the pan).  Just before the omelette is ready to fold, put about 1/2 cup of stuffing and 1/4 cup green veggies on top.  I recommend you microwave the stuffing and veggies before adding them to the pan to get them nice and hot; stuffing tends to be pretty dense, so if it is well-chilled from the refrigerator, it won't have a chance to heat through in the short time it will be in the omelette pan.  You don't want your guests cutting into their steamy omelette and hitting a lump of cold stuffing in the middle.
For a really decadent spread, make Leftover Latkes, the sweet potato variation, with a side of fresh fruit and a bubbly pitcher of mimosas.  Then sit back, relax, and decide you'll go shopping later.  Much later.